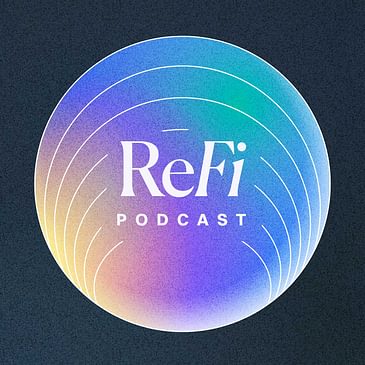 ReFi Podcast
Regeneration & Web3
Subscribe & Listen
Recent Episodes
Feedback From Listeners
Reviews
Apple Podcasts
This pod brings together real solutions and real people doing real things!
This pod brings together amazing people and discusses the things they are doing with regards to how we value nature, what we can do to help solve the climate crisis and how we can build a more regenerative system. Hands down, one of my favorite podcasts! Keep up the great work RefiDAO!
Apple Podcasts
The best climate/web3 podcast
Loving the show, John and Simar are great communicators and storytellers. Always packed full of insights and they showcase some really cool start-ups in this space!
Apple Podcasts
Fantastic and Accessible podcast
The best way to learn more about ReFi. Interesting, accessible and in-depth. John is an incredible host and a personal inspiration of mine. Big Ups Greenpilled frens xx
Apple Podcasts
This is the web3 you're looking for
Such a great resource to learn about the real impactful things that are being built in web3/crypto. It's not all mooning tokens and bitcoin mining. It's real passion to regenerate the world. The interviews are top-notch. I find the hosts asking the same questions that pop into my head. Love it!
Apple Podcasts
Essential listen- using ReFi to design nature-friendly tech + economics
The ReFi podcast focuses on Regenerative Finance which is a movement within Web3 focused on designing economic systems that value nature and fight climate change. TLDR: ReFi points the way towards developing communities, products, technology, and markets that can make the protection of nature sustainable and profitable vs being seen as a cost center. The episodes focus not just on the challenges facing the climate/biosphere, but also discussing the market opportunities in the development of ReFi economics (pro tip: climate + biodiversity markets are likely to be massive and scale into the trillions of dollars over the next decade). There is a deep focus on the "how" of the technology behind ReFi but they keep the discussion relatively non-technical so it is very accessible to a wide audience. The hosts, John and now Simar, are deeply knowledgeable, well-connected, and insightful. They really embody the spirit of open collaboration + inclusivity which is a hallmark of the ReFi movement. Their guests are terrific and one walks away from listening to these podcast feeling both inspired by the opportunity (versus the usual climate doomerism sense of hopelessness) and with a real sense of the people behind ReFi. ReFi for the win!!!!
Apple Podcasts
Making sense of ReFi
Sometimes it's really hard to understand what's going on in this space, but listening to these episodes I now get what my husband has been talking about all this time! Seeing the power of web3 alongside the coordination failure of climate change seems to make total sense. We need an alternative financial system that actually works for people and planet one that is transparent and allows us to hold our leaders fully accountable.
Subscribe to Newsletter
Get updates directly to your inbox every week!